I found this recipe on Spark People's Pinterest page.  There are a few changes I would make to fit my nutritional guidelines.    With low-carb diets we need to ensure we are getting in enough sodium, so do not use "low sodium" products. We also want to be eating high fat options.  Remember "Fat Metabolizes Fat!"  Not only is that true, when manufacturers start cutting the fat making a product "reduced fat" they are adding in sugars or artificial sweeteners!  Bring on the FAT and the SALT!  This would also be a great, make a head meal.  Even if you are only cooking for 1 or 2 people you can freeze the extras for a meal the following week.  Meal Planning at its best!
Chicken and Broccoli Casserole
Submitted by: LYZ219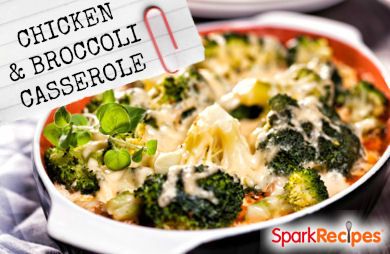 Introduction
A quick and easy dinner that is also low-fat.
Minutes to Prepare: 20
Minutes to Cook: 20
Number of Servings: 4
Ingredients
1 pound boneless, skinless chicken breasts
1 (10-ounce) package frozen broccoli spears
1 can lower-sodium cream of mushroom soup (substitute with regular sodium)
3 tablespoons fat-free mayo (substitute with regular mayo)
        1 cup reduced-fat shredded cheddar cheese (substitute with regular cheese)
Directions
Boil the chicken breast until done and drain. When cool enough to handle, cut into 1-inch pieces. In a square or round casserole dish, mix mayo and soup. Add broccoli and chicken and mix well. Sprinkle with cheese. Bake at 350 for 20 minutes or until cheese is melted. Serves 4.